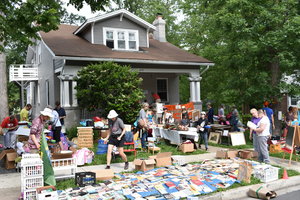 Come to our charity yard sale
All proceeds go to Edu-GIRLS - Run ENTIRELY by kids
Come to our 7th annual yard sale! There will be toys, clothes, shoes, books, DVDs, CDs, stuffed animals, baked goods, mango ice cream, and a car/bike wash. There will also be a raffle to win prizes from Takoma Park businesses. All proceeds go to Edu-GIRLS, which has totaled up to more than $15,000! This event is run entirely by kids from ages 6-16. We hope to make this our best and most successful yard sale ever!!!!
When: Saturday, April 13th from 10AM-3PM
Where: 222 Park Avenue, Takoma Park, MD, 20912
What: Books, Toys, Games, Video Games, Electronics, Clothes for everybody, Shoes, Gift Certificates from local Takoma Park businesses, baked goods, chai, samosas, and a bike and car wash
Who: KIDS!!!!!!!!!!!!!!!!!!!